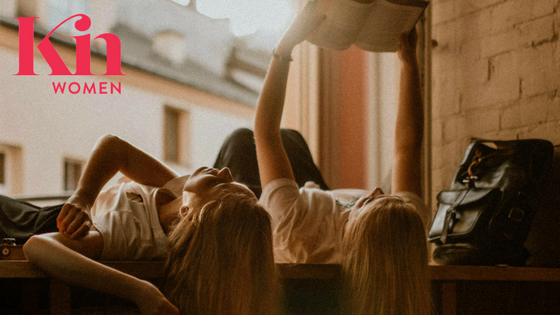 So this, I believe, is the central question upon which all creative living hinges: Do you have the courage to bring forth the treasures that are hidden within you?
Elizabeth Gilbert
In 2012 I wrote some poems, I collated them into a collection, and then I self-published a few to give to my family and friends.
The Friday that this precious box of books arrived I gave one to each member of my family. It had to be an immediate thing as I knew I would lose my nerve if I even waited one day to hand them out.
So I put my brave undies on, I got into the car, I delivered my books, and that was that.
Or so I thought.
What I didn't know then is that books have a life of their own.
So when I walked into church on Sunday and was stopped by someone who had read my book at my sister-in-law's house over the weekend. I was shocked.
Yes I know, I know! Books are meant to be read.
But for some reason I thought that only those people I had given the book to would read it. I hadn't thought much past that to be perfectly honest. And yes, I am rolling my eyes at my own naivety as I type.
This thing that I created was released into the world and it suddenly took on a life of its own. I was no longer in control.
I am in a similar situation today. Over the course of the last two years I wrote a manuscript, dealing with grief and beauty and the intersection of the two when we learn to lament. I have agonised over word choice, and reworked structure. I have deleted some passages and edited others.
It has been my work for two years, my passion, an outpouring of my soul.
And then at the end of last year I took this manuscript to a writers' conference and presented it to a publisher. Beyond all expectations she was willing to take a chance on my manuscript and on me.
A week later I signed a contract with her.
A publishing contract is amazing and scary. It is exhilarating and confronting. For once more I am in a position of letting go. While there is a partnership, there are elements that the publisher now has final say over.
I find again I have to let go of control. I have to trust my publisher. I also have to trust myself, that I made the right judgement call in signing that contract.
And when that book is finally released into the world. It will take on a life of its own that neither my publisher nor I will be in control of. We will both be taken on the amazing ride of a creative work released into the world.
And what a journey that will be,
Jodie
PS – if you would like to be one of the first to hear when my book is released. Sign up to my newsletter here.