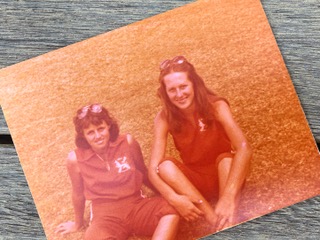 My apologies in advance for a blog that breaks every rule: it's too long, too personal, too sad. But in a month focusing on LOYALTY, these rules can be broken to celebrate an extraordinary friendship. One that's lasted fifty years.
In many ways, Anna and I could not have been more different. Anna was almost 6 foot and I stretched to just 5 foot 4 inches (well maybe 3 and half inches). Anna came from a conservative Eastern European home and I was from an Aussie family. Anna was not into school but committed to fashion, dancing and having a good time. A really good time. I was a dedicated student with plans for university and higher education, and lesser plans for weekend entertainment. But we went to school together, played sport together, dated boys together and spent so much time laughing and sharing our deepest secrets that I could never have imagined a lifetime without her.
Then tragically, in 1979, I lost Anna in a car accident. Now I look back on our growing years, the wonder years, with such fondness that every memory moves me.
Anna's family was Ukrainian. When I slept over, her mum made food that made my mouth water. She loved to cook traditional foods like Varenyky and Deruni (potato pancakes) but my favourite was Holubtsi, boiled rice and meat wrapped in boiled cabbage leaves. We would sit up at the kitchen bench with her mum to listen to stories of their homeland and adjustment to life in Australia. Anna would glance over at me. As if she were checking that I was part of the conversation. But I was engaged, fully engaged. Her mum's love and passion enfolded me.
Anna loved to dance. It wasn't just a talent, it was an obsession. If we arrived at a party or event, it would take only minutes for her to round up the DJ and fill the dance floor with people and laughter. She was more than happy to take the centre of attention and allow others to gather about her. Not out of arrogance or self-importance but as the self-appointed "minister of fun". I can never hear the song "Rasputin" without smiling at her loud boisterous singing, with a bit of Russian dancing thrown in for good measure, which would in turn ignite a wave of joy and energy that proved irresistible even to the most restrained.
Anna was a brilliant athlete who played netball and softball for Australia, as well as playing in the Soccer World Cup where she was awarded player of the tournament. Her skills, power, technical commitment and gameplay were truly second to none. She was the game changer.
Anna was powerful, funny, kind, loud and eccentric. She had the kind of loyalty that could almost appear as rage. Anna was relentless in every sense of the word. And the world was certainly richer for her appearance and poorer for her departure. Anna was the kind of friend you never want to leave behind and on days like today I see that I never did let you go. You carved your way into my heart and I have carried you ever since.
Kelley ❤️