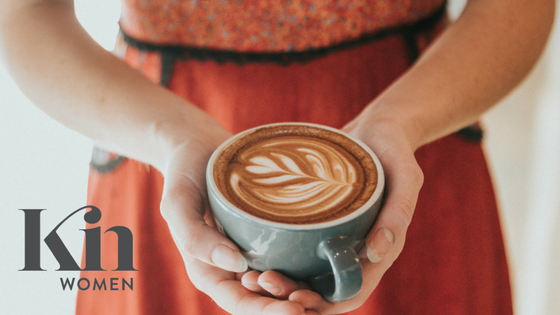 "I worship scones and danishes. If I never had another meal, I wouldn't care as long as I could eat pastries and jelly doughnuts."
Gene Simmons
To me they mean long, slow cups of tea with a friend. Jam. Cream. Warm and cosy. Winter sunshine.
And there are so many ways to make scones. It's an art form almost.
Whose scones are fluffy enough, solid enough, round enough, brown enough, light enough, perfect enough? That's the question recipe writers and home bakers have been asking for centuries… because yes, scones have been around that long (maybe don't take my word for it haha!)
When you think of scones, do you think only of roundness and brownness and texture? Or do you think of friends and long conversations and happiness?
I think of my Grandma, who used to cook with whatever she had in the pantry. Decades of living in Africa as a missionary taught her to make do. And to me, no one's cooking beats hers. Because even though she's been gone for a long time, I remember the love and belonging and warmth of her pumpkin scones.
I think of wintery afternoons spent in warm cafes over cups of tea with my mum. We might have hard conversations sometimes – or lovely and easy chats at others. But my memory of scones with my mum is one of belonging and being loved. I don't remember how perfect they were, or what cafe we were in but I do remember how I felt. Loved.
And I think of morning tea gatherings with friends when all our kids were little. Everyone brought a plate and I often brought scones. They were quick and easy and yummy – essential points of consideration when raising three toddlers. And I remember the laughs and the spills and the problems of the world being solved around plates of scones and muffins and store bought goodness too. And my scones would've been far from perfect – too flat perhaps, not round, too brown? But I remember the belonging of being with friends and the noisiness of those early years of raising our children together.
The memories aren't warm because of perfection, they're warm because of the precious women whose words, time and presence filled those moments. And not all of these women were mums. So whether you're technically a mum or not – here's to you this Mother's Day.
Thank you for the beautiful moments and conversations sprinkled with crumbs of wisdom, healthy servings of humility and dollops of laughter. Thank you for the moments when we all belong in our honesty and imperfection. Thank you for the store bought scones, the wonky homemade scones and the perfect ones too.
And most of all, thank you for your friendship, for the sisterhood and the oneness that comes from doing this lady-living journey together.
So, Happy Mother's Day to us all! Perhaps enjoy a scone or two this week…this recipe's easy and cheaterish and even if your scones don't look perfect, they'll absolutely taste perfect. That you can take my word on!
MOTHER'S DAY (or every day) SCONES
Ingredients:
2 cups self raising flour, sifted
1/2 teaspoon salt
1/4 cup caster sugar
1/2 cup cream
1/2 cup lemonade
2 tablespoons milk
Method:
Preheat oven to 200C and grease baking tray.
Place all ingredients (except for the milk) into a large bowl and mix until it forms a soft dough. (As Mrs Primmer from the CWA says, "Don't go like a bull at a gate, treat the dough gently.")
Turn onto a lightly floured bench and knead until combined.
Roll the dough out until it's 2cm thick.
Using a glass or cookie cutter, cut out 8x 6-ishcm scones.
Places scones on the greased tray and bake for 10-15 minutes, until lightly browned.
Serve with whipped cream and jam, of course.
Oh and one more tip from Mrs Primmer; "Remember, if you have a fan-forced oven it will be hotter. This means if you have a fan-forced oven on 200C, turn it down to 180C." Easy!
Read more of Mrs Primmer's tips
here
.
Also, this recipe was adapted from one published on taste.com.au