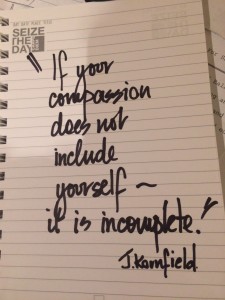 A beautiful friend of mine this week was relaying to me her massive disappointment in herself because she felt she wasn't good at doing a task that she had never done before, and will probably never have to do again. Her disappointment was palpable. She had such high expectations of herself to do it well, despite no training and no previous experience – there was an evident self-loathing. 
As her friend I extended my understanding and compassion, and as our phone conversation drew to a close I said, "please be kind to yourself."
Compassion – a common word
I'd like to think I am a reasonably compassionate person – perhaps you would like to think you are too. I'd also like to believe a good number of people are decent and extend compassion to others when they see their pain.
Turning the Favour Back
But my question for all of us today is, how good are we at extending compassion to ourselves? Can we turn that favour back towards ourselves?
I have come to believe that giving self-compassion is essential to our well-being and vital for our resilience to life's turbulence and pace, and is absolutely fundamental for us to be present for the people we love.
 What is Self-Compassion?
Self-compassion is when we extend compassion to ourselves particularly when we believe we are:
inadequate, or have failed
Self-compassion is seen by being caring and kind to ourselves when we feel these feelings of loathing because of an inadequacy.
Self compassion is a self-kindness.
Self-compassion is being warm and benevolent to ourselves when we encounter the pain of our shortcomings and mistakes.
No-Self-Compassion?
The number one way we are unkind to ourselves is often through that destructive self-talk; that self-criticism which says things like:
"You stupid person, you've failed again."
"You're so incompetent, you're stupid."
We all do it!
 Number 1 Thing
The number 1 thing that will help us to be self-compassionate is to remember that we are not alone when it comes to being and feeling inadequate or failing yet again.
These are shared human experiences – we are not alone in this space.
If you are feeling down because you got it wrong, you failed again, you didn't meet your expectations – please remind and tell yourself.
"I'm not alone."
"Everyone fails. Everyone has inadequacies. Everyone feels like this at times."
Be kind to yourself AND endeavour to do it better next time.  I'm trying too!
No regrets