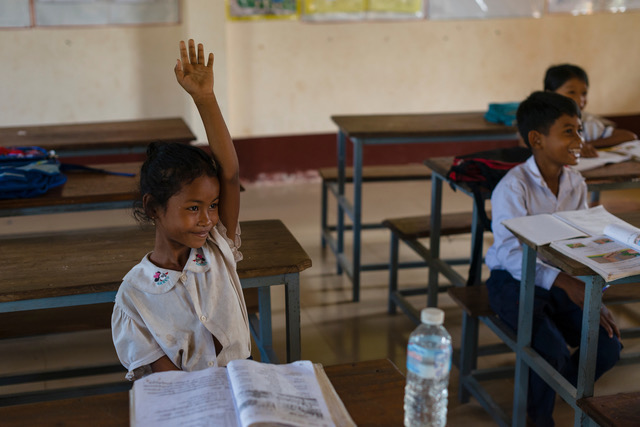 "We cannot all succeed when half of us are held back."
Malala Yousafzai
The school holidays have just ended here in Perth and my two daughters returned to school this week. Over the break, they spent many afternoons hanging out in our backyard, soaking up the sunshine, playing games, fighting occasionally and just being kids. It is a time like these I think about how fortunate my girls are. 
For a start, they can enjoy their childhood without war or famine. When it comes to schooling, they were born into a culture that values education for girls and they have access to a quality education system.  They will not be forced to marry and drop out of school once they reach adolescence.
As parents, we can afford to send them to school and don't require them to work to support our family income. They don't need to walk long distances to school and are free from the threat of violence.  Their school has toilets and water and they can attend to their hygiene without embarrassment.  They have access to healthcare when they are sick.
Truly my girls have all the support they need to learn, grow and develop their potential, and for that, I'm incredibly grateful. 
But as I look beyond my own backyard, I'm aware that millions of girls in developing countries are still being denied an education due to the obstacles I referred to.  According to UNESCO, 65 million girls are not in school today. Of these 16 million are expected never to enter school, compared to 8 million boys.
But access to education should not be a privilege determined by gender, country of birth and economic status.  Every child in the world deserves to go to school.
When girls are educated, not only do their own lives improve, but their families and communities also benefit.  Here's what we know:
If a girl completes school she is less likely to marry early and have children before she's physically and emotionally ready. 
For every additional year of schooling, a girl's earnings increase by 10-20%.
Educating girls is the most effective way to improve the health and well-being of her future children.
Educating girls is key to reducing poverty as women reinvest more earnings back into their families than men do.
There are many other proven benefits to investing in the empowerment of girls, however, it's not just an economic issue, a health issue or a development issue – it's also a rights issue.
Every girl on the planet has the same right to learn and the same right to discover who she is and how she can uniquely contribute to the world.  We all lose when this isn't the case.
Getting girls into school and keeping them there requires both will and action by all levels of society.
It means governments of developed nations continuing to fund overseas aid programs that reduce the barriers for girls in the developing world. 
It means corporations backing initiatives that are bringing about social change in developing communities.
It means individuals continuing to advocate for change, even when the message is slow to get through. 
It means all of us looking beyond our own backyards and upholding her rights.
On this International Day of the Girl, let's see her and let's not forget her. 
Because she is amazing.
Bridget