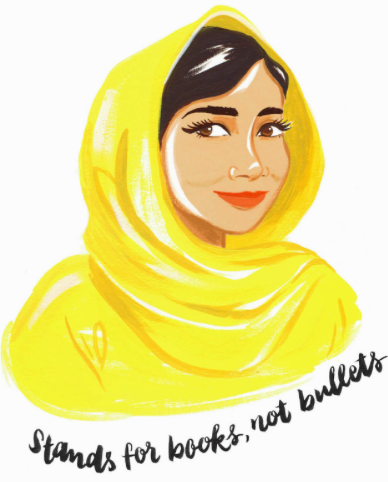 "The pen is mightier than the sword."
Malala Yousafzai
Image from Bad Girls Throughout History
Imagine walking into a school bus and fearing for your life? Or the terror of going to school even though you cannot as a woman, knowing that the retribution will be fierce. 
Malala Yousafzai is currently the youngest woman to ever win a Nobel peace prize at seventeen years of age and she faced adversity with courage and tenacity.
Something profound happens in all of us when we face challenge and difficulty. Resiliency becomes our calling card when we pick up the courage found deep within.
I love the story of Malala and how she has met the authorities of her homeland in Pakistan and has waged war with a pen.
She said once in a speech to parliament "The pen is mightier than the sword" believing that education of girls in the developing world can be the greatest emancipation of our times.
We all face our adversities here in our everyday worlds. Maybe we are being silenced by a controlling boss, or we are unsure of the steps ahead in a season of difficulty or grief.
Maybe you are recovering from a time of stress and exhaustion.
Little by little, we all can face the adversities in our every day and stand up for the passions we have in our hearts for a better tomorrow.
Stand up for what you believe; even when the odds you face are vast.
Together we can be fearless in facing adversity because our purpose and faith will strengthen us.
Join us for more conversation at kinwomen.
Amanda Viviers