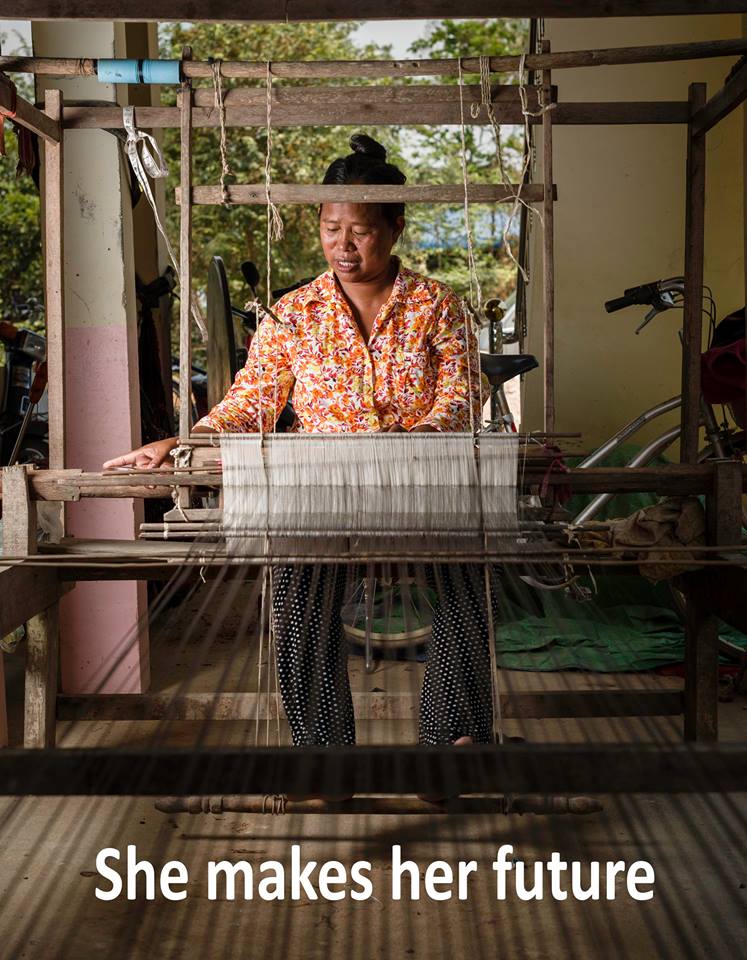 Thom leaves in a village in Takeo Province, an area about an hour and a half from Phnom Penh. She comes from a village and family steeped in generations of silk weaving. At just 12 years old, she left school to start working alongside her mother and grandmother. She loves making silk. She loves the process of dyeing the silk, transferring the thread onto bobbins, setting the loom frame, and then weaving and finishing the silk product. She loves the feel of the thread in her hands. And she's proud of the beautiful end products: scarves, materials, bags and accessories.
To make a scarf takes up to 7 days but she struggles to sell the products for a fair price in a market being overtaken by garment factories and machine produced goods. Thom works hard to provide for herself and her family. She plans for a bicycle for her daughter to ride to middle school and medical insurance to cover special health needs for her son. Life is difficult.
But the answer is not money from a donor.
It's not the establishment of a free clinic that may come and go as finances waver.
It's not even the building of schools and community infrastructure.
It's the opportunity to earn one's own wage; to use personal skills and abilities to trade services and products.
This is Foxglove's passion and commitment. To help women get ahead. To be a cheerleader and advocate for women making their way out of poverty.
Foxglove believes in the capacity of women just like Thom.
It buys the women's products at fair trade prices and sells them in First World marketplaces. Foxglove then reinvests 100% profits back into women and girl projects in Rwanda, India and Cambodia.
Why don't you join us?
Why don't you buy a Foxglove Gift this Mother's Day and support Thom and many women just like her to walk her own road out of poverty; she makes her future.
Foxglove Shop is open for Mother's Day
Go to Foxglove