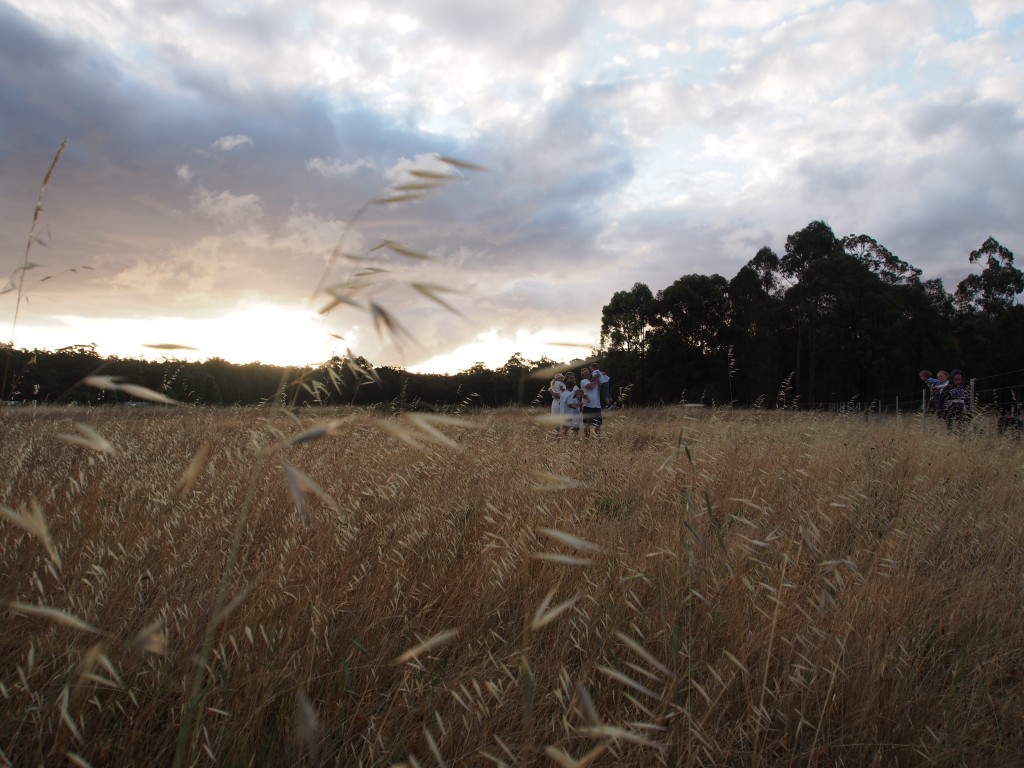 Just last year our extended family bought a farm. It is a simple lot of acreage, found right in the middle of state forrest. The space and the thinking time it has bought into our family calendar is profound. It's no more than a big barn like shed but it is so much more. The memories, the bike ramps, the cubby house adventures, the time spent with grandparents, the absolute sheer breath that nature forces you to take.
The space that this simple bush-scape has created is powerful.
We spent time there over the New Year, in the midst of days when one of my closest friends had just passed away. I walked and talked, laid under the echoing night sky and tried to hear from God in the midst of my grief. I had and still have so many questions, but the farm found me broken and created the time my heart needed.
I flew off to New Zealand for her funeral, with friends and stories, laughter and so many tears. The crazy thing is I carried with me all the way from our farm, a tiny little splinter in my foot. It didn't matter what I did, I could not get that pesky little splinter out of the way, so I could walk easily.
This splinter taught me a massive lesson in the small things we carry around in our day how much impact they can have in our lives.
A little piece of wood.
A tiny sliver of brown.
and it caused so much pain.
I would forget about it and then suddenly walking down the street the splinter would shout. I would search for this little piece of irritation, but could not dig it out. I would be swimming away in the ocean and then as soon as my feet hit the sand, the little piece of annoying wood argued.
It is very true that indeed it is the very small, not designed to be in our life can cause the greatest amount of damage.
This splinter got me thinking about the thoughts we carry around, that impact everything we do. No one else notices them because they are very little and unseen. What about the quiet silent words we tell ourselves that are private and our own, but the echo of negativity across our day is far reaching. What about the things we ignore, they are just small, a roll of the eyes, the disgust for someone that gnaws away at our soul.
Little splinters, that we carry around with us, that make the greatest difference to our peace and health throughout the bigger stuff we need to battle in life.
This year I am focusing on two words for twenty sixteen, intentionality and health.
I am asking myself questions in the little things day to day like…
Is this healthy?
How is this intentional to build the life that I am designing?
When we say yes to something that is healthy and intentional, our life flourishes. When we say yes to something that is out of obligation, regret or people pleasing it is like we carry around splinters as we try to keep the peace across our lives. The peace is unravelled by the little splinters that we allow in our everyday.
What splinters are you carrying around this February?
Is it negative thoughts and words that you speak to yourself that echo negativity across your days?
Are you saying yes to things out of obligation, regret or people pleasing and then spend your days trying to find the splinter to find your peace again?
Find those splinters.
Remove them carefully with love and tweezers.
And let's together build lives of intentionality and health this year.
Amanda Viviers
(If you would like to follow Amanda's writing over on her blog daily click here Capture Life)