Meet Linlee from Lady Marmalade -Linlee, a hardworking, creative woman doing what she loves in a kitchen that's become too small but wow what she puts out.
Preparing the Way for Kinwomen Goes Wild Trip (Pt 1) – with Penny and Rose
Take 2 – Great Food and the Phenomenal Food People
We are back!  We, Rose Parker and Penny Webb from Kinwomen snuck away – just for the weekend – from our Perth families and homes to go ahead of the Kinwomen Wild Weekend scheduled on 2-4 November to find some great spots for you and your friends.
We have shared the spots for the op-shop, antique and curios connoisseur, but one thing we know, we have to fuel for such ventures, so food becomes very, very important.
The Southern Forrest region is fast becoming known as the Food Bowl of Western Australia – the lush, green environment is without a doubt conducive to the excellent produce and potential innovation that is taking place and winning awards around the world.
However, it is the people who are making this produce, and serving this produce who we fell in love with.  Everyday folk, working hard, often with their families, bringing their apples and truffles and wine fit for the queen's table.
Here are some of the people; their food and restaurants we met this weekend either along the way or in Manjimup – go and say Hi and let them know you are from Kinwomen.
Remember, it is also 2018 Spring Festival of Country Gardens Weekend (1-4 November) www.festivalofcountrygardens.com
KIRUP
Arrive Hungry!
Grab a table with the girls and agree to ditch the no-carbs, no-sugar diet for the next 48 hours.  Allow Linlee, owner and baker, to take you to baked goods heaven.
We shared a fabulous steak sandwich and then OMG… the best Lemon Meringue Sponge Syrup cake creation we have ever tasted….. great coffee too.
We had a great chat with Linlee, a hardworking, creative woman doing what she loves in a kitchen that's become too small but wow what she puts out.
Don't miss this and tell her Kinwomen sent you.
PS: Picked up a good little brochure on hand-made, pure, natural, transdermal magnesium products being sold by 'Life with Magnesium' – life with magnesium.com
BRIDGETOWN
We are suggesting this town would be a great place to head to for a Sunday exploration.
Maybe stop here for lunch and a wander.
The town is full of great cafes and shops in a classic old Australian town with buildings from 1870, beautiful gardens and all on the banks of the Blackwood River.
Check out these super places to eat:
Also check out great shops along the main drag especially, The Loft Handmade Boutique… run by our friend, the lovely Vicki Meyer.
Bridgetown Spring Garden Fair at Ford House
There is a special event in town that Sunday, 4th November
Open Time: 8.30am to 3pm
Address: 16 Eedle Tce, Bridgetown
Delicious coffee and afternoon tea
Plant specialists on hand and garden delights.
2018 Spring Festival of Country Gardens Weekend (1-4 November) www.festivalofcountrygardens.com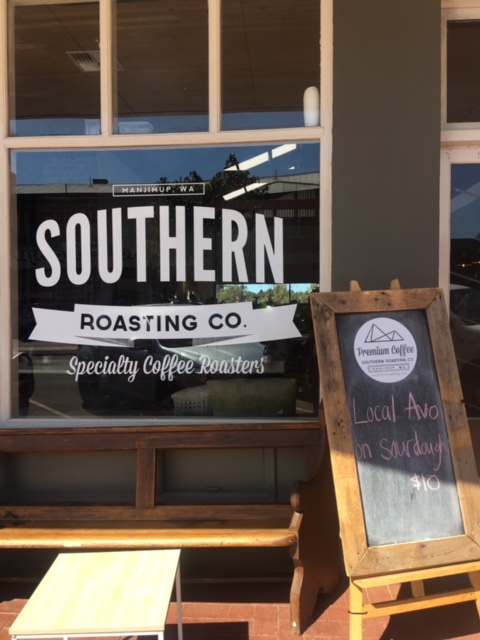 MANJIMUP
Farmers Market NEED  – Open on Saturday and is located right in the heart of town and next door to the Visitors Centre – look for the large white marquee.
Southern Forests Food Council  – this is the shop front promoting all local produce in the area and doing a fabulous job of bringing local producers together, creating partnerships and business opportunities.
The Cherry Box – we couldn't get in the day we were there, but we had a good look through the window and it looks like it has some good things to taste-n-see that the Cherry-Box is good!
Southern Roasting Co.  – Grab the best coffee in town.  They are open for Brekkie and a lunch bite.  We shared an excellent toasted Rueben sandwich.
Say a big Hi to Ian and April, who are good hosts, and tell them Kinwomen sent you.  This is one of the venues where we are holding the afternoon workshops.
You can buy their locally roasted some coffee beans to bring home – a nice gift for the coffee-lover in your family.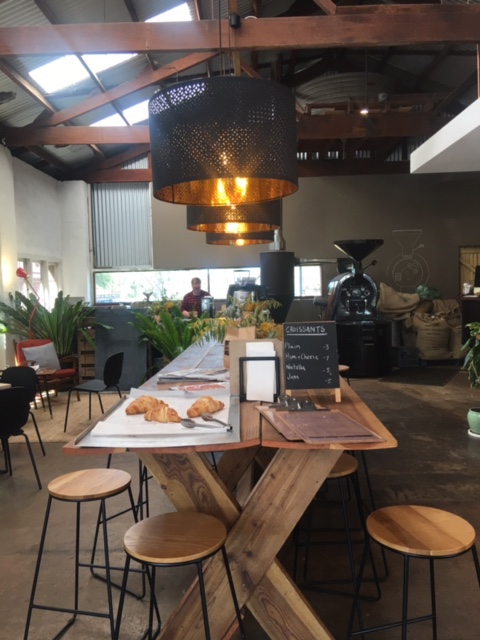 Manjimup Wine and Truffle Company  – A great cellar door experience hosted by Stuart and his trio of Truffle dogs… Labradors … Rosie, Gunner, and you can find out the name of the black lab because we missed that one!
Taste local wines and truffle-inspired products from the region which produces the best quality black truffles 'In The World' and provides 80% of the Southern Hemispheres Truffle demand.  How brilliant!
Great restaurant here also serving lunch from 10 am to 3 pm.
If you are a gourmet foodie you will not want to miss this !!!
Guadagnino Co.  – This family are fruit and vegetable growers.  It's a large working warehouse with a small shop and located inside is where you can buy fresh-picked produce in season, local honey and handmade tea towels.
This is a local hardworking Italian family who greeted us like we were family…. offered us a short black and invited us into the family lunch table to sit for a while.
We learnt of hard work and history and the reason for it all… Family.
I (Penny) interviewed Ray on raising girls! Look out for that gold!!!
You will know you have arrived when you see the white fence and the Australian and Italian flags at the entrance.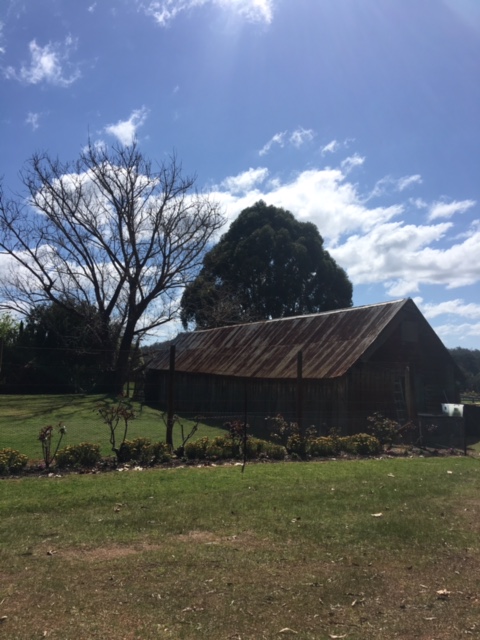 Dingup House – Who would have guessed that our Wild Kinwomen Weekend would coincide with the Open Home and Garden Weekend. The fabulous Dingup House was built by the Giblett family in 1847 and is just outstanding where it sits on a hill.
The Dingup House is open Saturday 3rd November and serving Devonshire tea in the gardens from 10 am to 2 pm; $5 (Garden entry) and $12 for afternoon tea served on the front lawn.
2018 Spring Festival of Country Gardens Weekend (1-4 November).
There's lots more on the way and the region offers some great Wine and Food Tours too so for the foodies – you will have a ball.
Coming Up Part 3 in this series – We will let you know some of the things you could do on the Saturday at the Kinwomen Wild Weekend.
It would be super to see you at the Kinwomen Gone Wild Roadtrip – Manjimup Weekend – 2-4 November 2018.
Bring a few friends or go onto our Facebook Event Page and ask if anyone is looking to share a lift or a few of you share accommodation.
Love from Penny and Rose