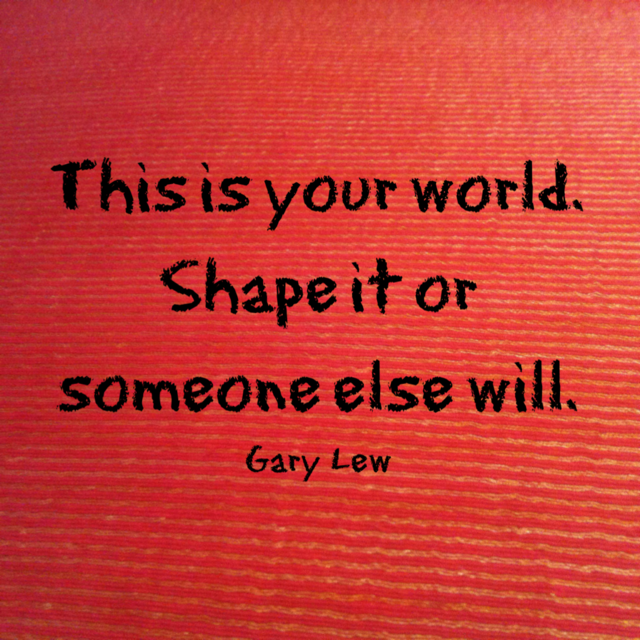 "This is your world. Shape it or someone else will" (Gary Lew)
I have this quote in a prominent place on a wall in my home, somewhere that I can read it regularly. During the month of January, as I've thought about being a woman of purpose, I've reflected a lot on how well I've embraced this.
In the last few years (while this quote has sat on my wall), I dropped to a very low place in my confidence. I'm not sure many around me would have detected it. I think I still carried myself fairly confidently and I still enjoyed many aspects of my life, but I questioned so much about myself: my abilities, my character traits, my opinions, my tastes, my choices and my contributions to the world. I found myself withdrawing, staying quiet, not voicing opinions and being generally agreeable in many of my relationships. It felt easier to stand back and watch the world, to conform and become a chameleon than to put myself "out there" in any way. For to do so was to create vulnerability, and open myself up to ridicule or failure.
The comparison game became my best buddy. I don't think I went a day without analysing, comparing and wondering why I couldn't measure up. I felt so often that I was a 'square peg in a round hole'; that I just didn't fit. I had a sense that my gifts and abilities were of little value and that the things I liked and found meaning in were of little consequence. At the risk of sounding overly dramatic, I admit that I wrote it my diary that "my soul was dying".
Initially, in order to make sense of this I became judgemental. I quietly analysed and criticised other's choices and lifestyles in a bid to make myself feel better, shifting responsibility for my feelings to other people's actions. This only alienated me further from the acceptance I was craving and my negativity was dragging down other more healthy relationships.
At some point in all this, as my soul was screaming, I decided I had to claw my way out of this bind and become a healthier me. I needed to be kinder to myself and rebuild the relationships I was on a crash course to destroy.
To do this I firstly had to let go of the comparisons and the blaming. I then had to rediscover who I was made to be and delight in my individuality. I also had to stop allowing my life to be carried along by the opinions and desires of others and believe in myself and my choices. Next step, I had to be bold enough to voice my opinions and be real and vulnerable. Finally, I had to find a way to reignite my passions and purpose, initially by intentionally seeking out others who shared these passions so I might be revived and encouraged in my journey. In a nutshell, I had to take hold of my life and my world and learn to shape it, before someone else did.
How well am I doing? I'm getting there. It's not quite as linear as I make it sound, and not always as easy. Endeavouring to be a woman of purpose is a crucial factor in moving forward. Writing for Kinwomen is one part of my journey to do something with purpose and passion, to be vulnerable, real and open and to hopefully encourage someone else on that journey too.
Esther Murray