We all have choices in life. Sometimes we talk about the fact that if a door opens easily, then that means that it's meant to be.
I've come to realise that often the doors that are heavily fortified, or need sacrifice or hard work to go through, are the ones we're meant to pursue. Sometimes easy doesn't mean right.
I get presented with all sorts of great opportunities. I also get presented with opportunities that may seem insignificant or  unimportant.
Sometimes, it's the most humble opportunities that bring the greatest joy, benefit, effect or legacy in our lives. Sometimes, opportunities are seeds.
Recently, I've had some opportunities:
First, an opportunity to help a young neighbour in Year 12 who is struggling with his work. I'm in the middle of editing one book and writing two others. I really don't have the time to spend helping another student—I have two others I mentor. I chose to spend a few hours helping him with his essay-writing skills.
The other night, I was concentrating on finishing my 100 Day Creative Challenge when my husband asked me to edit a letter for him. I was annoyed at being taken away from my work to edit this letter. Annoyance was replaced by compassion as  I realised there were far more important things at stake than my precious desire to finish a personal challenge.
The letter appealed to our Prime Minister's compassion. Some refugees in detention, who are part of our church community, had been prevented from attending church. Because of a recent High Court ruling, they were also in danger of being taken back to Nauru without forewarning.
After I finished editing, my husband said, 'I think we should go and visit them.' I agreed.
A couple of weeks ago, I saw a Facebook post from Jessica, a woman I met in Seattle a couple of years ago. She runs a non-profit organisation that provides shoes for homeless people. She was doing a challenge to raise enough money to buy 200 000 pairs of shoes for people who are homeless in 90 Days. In less than a month, they have reached over that figure.
I chose to donate a small amount. The shoes are provided to people who aren't my immediate neighbours, but I've seen the homeless on US streets. I don't know them personally, but, I did meet Jessica, and engaged with her passion to help others less fortunate. I chose to give a small amount, not just to provide shoes, but to encourage her passion.
Who knows where these choices will lead. They aren't the most glittering of opportunities. They aren't glamorous or exciting. But they are ones that sow seeds.
When it comes down to it, opportunities are choices. The choices we make, the opportunities we take, sow seeds. You see, sometimes opportunities seem insignificant, paltry in the face of the insurmountable. But, it's in the small where big things begin.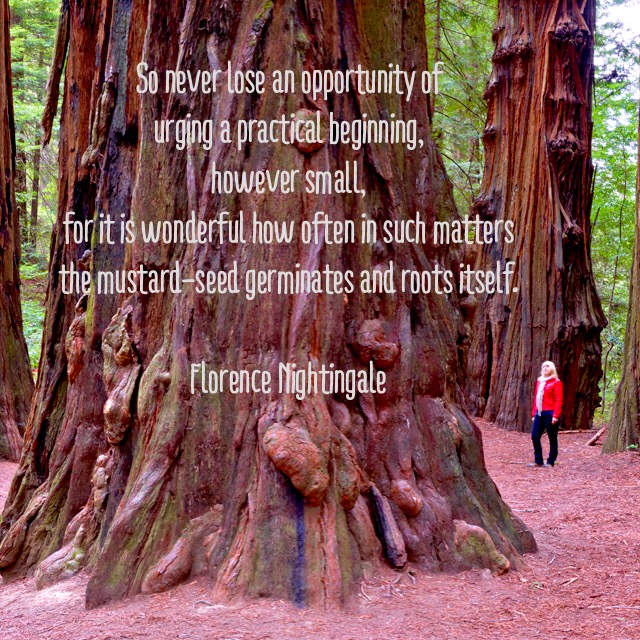 Elaine xx