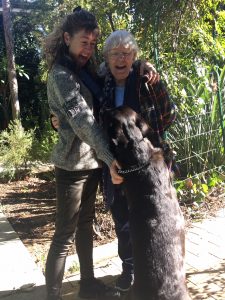 I have this ball of fire in me that won't let me quit. It's my mum's voice saying, 'Don't let this stop you'. Nina
I am at the Kalamunda Farmer's Markets in Perth early on a Sunday morning, and I have been introduced by my Mum to her local friend, Nina.  Mum has often talked about Nina to me because she is in awe of this lady's tenacity and vibrancy for life, zooming around town on her mobility scooter, wearing a fabulous cowboy hat and often with two dogs in tow and determined to leave a positive mark on this planet despite the adversity she faces every minute of the day.  Mum and Nina frequently spend time in each other's company on a Sunday morning, both being early risers, over a very healthy grain-bowl breakfast (which was very good!) sitting amongst the buskers, local producers and hustle and bustle of any good food market.
Kinwomen is looking at the theme of adversity this month and Mum (Val Heaton), also a Kinwomen Blogger, asked me to capture the story of her Perth Hill's friend, Nina.
So an interview began on the first Sunday of a sunny winter's day in Perth, all three of us with a warm, smooth apple juice in hand, sitting under a gum tree on a brick wall, and me with pen and paper in hand.
The only proviso from Nina for this interview was that the details may be not exact as her memory is not the sharpest nowadays due to her condition.
Be inspired to love life.
No Regrets
Penny Webb
It is really good to finally meet you Nina.  I have heard much about you – all good!  Let me begin by asking, 'What were you like as a child?'
I was the kind of child who loved doing all the things that I can't do now.
I was known as 'Nutty Nina'. I received this nickname as a young girl because of my endless supply of energy, fun and out-of-the-box creative thinking but it did come with behaviours that were loud and school reports that did say I could be 'obnoxious at times'.
I was born in Brighton, England in 1975 – a town that was always going to be too small for me – with houses that were too close. It felt like a cage.
I loved dancing, running, animals, the outdoors and all that was wonderful about the day.  I was happy to be alive and loved this world.
Let's fast forward in time to now before we pick back-up your story again.  How did you meet my Mum?
I don't fully remember when we first met, maybe a couple of years ago, but what I can tell you is that your Mum and I meet up at the Kalamunda Farmer's Markets often on a Sunday morning and together we talk and have a healthy breakfast together after getting our fresh fruit and vegetables for the week.
She is great.
She reminds me of my Mum.  No nonsense, fun and loves this earth and wants to do what she can to look after it – just like me.
Let's return to your story. Tell me about your family?
I was tall and skinny.  Taller than my parents and we couldn't work out why but we found out that my Dad was adopted and his roots go back to the Scottish William Wallace clan.
I had hardworking, loving parents and I had an older sister who was creative too, but in a very different way.
Tell me about your 14th Birthday?
Everything changed on my 14th birthday.  I woke up not able to walk; the whole left-hand side of my body had been affected over-night.  We went to doctors and then specialists in London and it was then that I was diagnosed with a condition.  In a short period of time I became totally paralysed on my left-hand side and blind in both eyes, and so I began steroid treatment and recovered some of what was lost, including my sight after a year in one eye and partially in the other.
My mother carried all the shit on her shoulders.
It wasn't until probably a year later that I was to find out what my condition was called because my mother carried the burden for me.
She protected me.
She said, 'You'll be right.  Come on.'
She had been told by the specialist on that day that I had Multiple Sclerosis (MS) and that I had two years to live.
How did life change for you and your family?
Remember, I didn't know what my condition was.  All I knew was that I was having treatment and I was gradually getting better.
I finished school and we visited France every school holidays, and then my parents, understanding I had now less than two years to live, decided to sell up everything, put their careers and jobs on hold to show me the world.
So we left – just us three (as my older sister was working) to see the world for a whole year; Egypt, Singapore, Australia, New Zealand.
My parents gave me a ton of rope to live and be free as a late teenager – remember, all they knew is that I had less than a year to live.
It was when we were visiting Byron Bay that something was happening to the right side of my body, so I had to go to the doctors.  It was then that my parents told me I had MS, but my Mum told me, 'Don't let that hold you back.
I learned later that Mum received a lot of flak from friends and family; told she was a bad mother for not telling me about my diagnosis when they found out. But I see it very differently – I think she was a fantastic mother.  As a young girl, she was my protector and burden-carrier.  I love her for that.
My Dad was a rock through everything.
After this magical time travelling the world where did you go?
We went back to Brighton as a family but this was a foggy time for me.
All I wanted to do was to work and save enough money so I could go back to Australia – Fremantle.  I loved Fremantle.
So, that's what I did.
I was 18 when I arrived here, and then back-packed around Australia, from town to town, working a little as a barmaid who just loved dancing.  I had a bankcard in my pocket (which was regularly topped up by my parents) – living and enjoying every second of life's moments.
I became engaged, for about one year when I was seventeen, whilst in France and Brighton to a kind, sweet French man but he was too soft for me – I could crush him too easily – I was very strong-willed!  I needed a tough man and I found one in Marvel Loch (400 km east of Perth, Western Australia) – his name was Phill.  I looked pretty good then, and Phill who was an Aussie born in Mount Barker, Western Australia with Greek heritage, thought I did too and taught me that I didn't need and couldn't have everything!  I left him though at one time and went back to the United Kingdom, but he begged me to come back, and so I did – I realised I really meant something to him.  We were together for 10 years before we married – I was 29 years of age I believe – at the Mundaring Weir Hotel, Perth, Australia.
I worked for the Multiple Sclerosis Society at one point and then as a telemarketer at Technical and Further Education (TAFE).
Phill and I used to do a lot of rides on the Harley motorbike, and we still do.
I didn't want kids.  I didn't want my children having to look after me.
You were obviously fighting and beating the odds of how long the doctors had given you to live?
Yes.  From the age of 35 years my mind and body are gradually being taken away from me.  I can't run.  I can't dance. My days now are a lot harder. My long-term memory is pretty good. My short-term memory is not good at all. I remember your Mum because I see her often at the Kalamunda Farmer's Markets and we have breakfast.
My days often feel crap. I am MS.  I never get a day off.  I carry it every day with me and it is slowly taking me away.
Do you ever ask why?
Yes.  I ask why me because of all the people in this world who had so much energy to live and love, and climb trees and run amuck, and create and dance and love the planet – it was me.  It was 'Nutty Nina'.  So why this body? I can't stay in these thoughts. My goal is to look after myself physically and nutritionally very well so that I hang around long enough for the cure to come…
… then I will fly.
I will have wings to fly harder and higher… and love the world.
What gets you up in the morning?
I have this ball of fire in me that won't let me quit. It's my mum's voice saying, 'Don't let this stop you'.  My Mum carried the burden for me in the early days and she taught me to get on with life – to live life.  That is her gift to me. My Mum comes to visit me and she is still the same. She tells me she loves me and she shows me she loves me by just being here.
I know that the day I quit, is the day that MS will take over.
Adversity is every day for me.
The drive to take my two great dogs for a walk gets me up in the morning.  I walk them every morning apart from Sunday mornings because Phill takes them and he gets me a cup of tea in bed.  He is a kind, caring, loving man.
I wake up each morning and I face my adversity again and again.
Is there something beyond your personal fight that is important to you?
I get up in the morning to fight for this planet. I feel the pain of the earth. I think I feel, hear and touch so much more since I lost my sight and as other body challenges take over. I want to leave the smallest footprint on this planet.  I have short showers, re-use everything, flush the toilet every second time. I appreciate this planet and I am a part of this planet.
What advice would you give someone who is struggling to handle their adversity?
I would say, 'snap out of it!'
I would say, 'no matter what – do the best you can with what you have.'
I would say, 'don't quit'.
And I would say, 'do the best you can for the earth.  Look after it. We have been given so much.'
I have this half-acre block of trees and garden and a home which I love. I don't have many friends – just a few who understand but I have a man who is kind, caring and loving. No one has everything, even those who look like they do.  They don't.
I would say, 'Remember, there is always someone, somewhere worse off than you.'
I would say, 'Don't judge people.'
I would say, 'Snap out of it and live.'