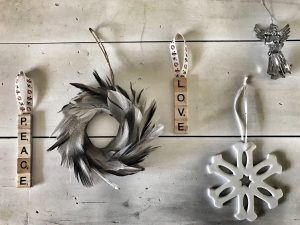 It seems the older I get, the more I feel this time of year sneaks up on me and engulfs me in a festive mayhem. Part of me loves the twinkling lights, jolly music and the surroundings of a childlike atmosphere. But yet, the other part of me knows that life is wobbly, hope is deferred as I stand alone confronted with the reality that things are not as they seem.
No matter how hard I try or wish, it seems the perfect Christmas is always out of my reach.
I know I'm not the only one. Word about town is that quite a few of us would like to run away from our family gatherings and just be solo on a tropical island somewhere in place without judgement.
So, what do you do with this juxtaposition?
My go to response, is to smile, nod and say words like, "it's all good, next year will be better".
But what if it's not?  What if next Christmas I'm single again and eating my weight in cheese and wondering yet again where I went wrong.

I usually cannot camp in this place of wallow for long, as life has a way of issuing me with perspective.
Like this morning while on patrol at surf club, I got chatting with another crew member about her Christmas plans. Turns out she's a nurse and will be working with tiny babies still in hospital on Christmas day. Apparently, some of the babies have been there for more than three months fighting for their life.
Seriously.
I call these, 'wet fish moments'.
Where someone else's truth slaps me in the face and shakes me up a little.
You see I'm not in hospital, nor are any of my nearest and dearest family or friends. Most people I know are healthy and fit.
It's here that gratitude pierces my heart.
This time of year, is not about the perfect Christmas feast, overindulging in the trimmings, or the green tree covered in sparkling baubles. I recognise that they are all nice sentiments, but I think what matters is being thankful in the messy everyday moments of life.
So, if you've burnt the turkey, the pie's pastry doesn't puff or cutting words from a relative get thrown around, try to remember your grateful heart.
Be grateful you're not hospital this Christmas.
Be grateful that family members only visits once a year.
Be grateful of the country you live in.
Be grateful that you are loved even it's more by your friends then your own family.
Be grateful your family is slightly left of centre, they're contributing to the diversity of our society.
Stop for five minutes and take a flipping great big deep breath and find one thing you're grateful for and thank the heavens for it.
If all else fails, fake a killer headache and go and lie down in a quiet bedroom for an hour.
Nobody's Christmas is perfect, neither are you and that's okay.