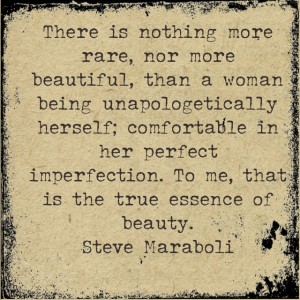 I don't know about you, but struggling with or against my body has been a huge part of my thinking and focus since I was about ten years old.
I remember distinctly looking down at my legs in a gymnastics class and wondering why my legs were so chubby. Now, looking at photos of me when I was ten, I realise I wasn't chubby at all. Where did those ideas come from?
In year ten I remember a girl following me and commenting, 'Your bum is huge.' I walked around for about three years afterward imagining my bottom to be massive—think Kim Kardashian times three.
Thus followed many years of fad diets, unhealthy thinking about my body and a self-consciousness bordering on obsessive which didn't make me any thinner, or happier.
Fast forward to now. Do I still look at myself critically and wonder what people think of me?
I still worry about my appearance and putting on too much weight, but now it's more of a health issue.  I made a shift in my 30's to look at my health and well-being, rather than trying to be thin.
I gave up fad diets and took up exercise and healthy eating after  deciding that I was never going to be stick thin. Genetics and an autoimmune condition mean that my body is always going to be fighting against itself.
This healthy approach has led me to participate in some healthy fun activities:
I took up triathlon for a while as a motivation for exercise.
I've been going to the gym since 1997. I go to classes and have personal training sessions.
I walk regularly in the bush near my house.
I go for a run/walk with friends every Friday morning with friends and then we have breakfast together.
This year I've done a few challenges at the gym. For example, our gym ran a rowing competition and I came second amongst the women, beating a lot of girls more than half my age.
In October, I participated in Walk Over October, where I counted 356, 499 steps over the month on my pedometer. This means I walked or ran at least 270km during the month.
During November, I'm participating in a Detoxathon. It's an opportunity for me to clean up my diet, try some healthy juicing and a few new recipes. It's not an extreme program. It's run by a nutritional therapist and basically reduces the non-nutrients and increases the high anti oxidant and nutritious foods in your diet. It will give my digestive system and liver a bit of a holiday before the silly season of excess and indulgence arrives in December.
I want to be more intentional about my health, and taking part in these activities or challenges gives me motivation and mixes things up a bit.
Some friends have decided to do the Oxfam Trailwalker event in 2015. This involves walking 100km in 48 hours in order to raise money to help alleviate poverty.
I said I would love to train with them and plan some bushwalking trips in the coming months. Signing up for things like this, gives focus to health as well as helping others.
My husband and I travel a lot and often hike difficult trails. In order to do this I need to be fit and strong. When I'm out in the bush, I can honestly say I'm not thinking about how I look. I'm revelling in the fact that I can walk, climb and carry gear for several kilometres and enjoy the challenge of reaching difficult to reach places. Enjoying amazing views and experiencing nature is a reward I will never take for granted.
Wellness is a combination of body, soul and spirit, and as long as I'm able, I plan to treat my body well so it can do what I need it to do.
So that's why I eat healthily, try to get enough sleep, and exercise. In the process of taking the focus off appearance and onto function, health and enjoyment I find I'm finally comfortable in my own skin.